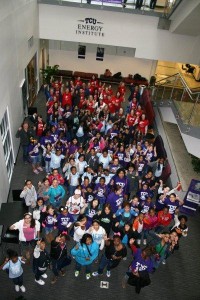 The Fort Worth SWE had fun helping with the TCU/Girls Inc event "Sister to Sister – Making Connections the Engineering Way" on Saturday, March 23rd. This was our first event with Girls Inc hosted by TCU and it was a big success! The girls enjoyed meeting the engineering college students and professionals and trying their hands at engineering.
Almost 100 girls aged 8-12 years old attended the event. They learned to make lip gloss and polymers in one workshop.  They also designed some spinny sign and powered them with a simple motor and battery.   The girls tried making bridges using magnetic building kits and learned how engineers put their designs into the computer by creating their own CAD drawings.  Besides learning about engineering, they also got to tour the beautiful TCU college campus.
A big "Thanks" goes out to the engineering students at TCU who worked hard to plan this event as well as the staff at Girls Inc. Also, thank you to those professionals from the Fort Worth section who volunteered their time and helped make the event a success.
Check out the Tarrant County Girls Inc blog for an article about the event.