On April 13th the Fort Worth SWE section held the annual Collegiate Day and Senior Sendoff event for the local collegiate sections.  The luncheon was an opportunity for the students from the University of Texas at Arlington, Texas Christian University, and the University of North Texas to get together and network with the Fort Worth SWE professionals.  As part of the event the professional section took the opportunity to recognize the many accomplishments of each of the student sections and praise their outreach efforts and participation at SWE conferences and events.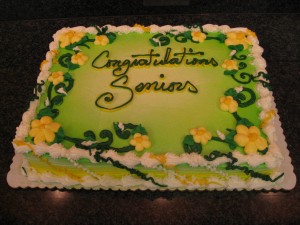 A highlight of the luncheon was a presentation by SWE Leadership Coach, Carol Bachman, entitled "Generations at Work" that described how communication, leadership and work styles of Baby Boomers, Gen Xers, and Millenials differ.  The presentation sparked insightful conversation since all three generations were in attendance.  It was an opportunity to learn about the work habits across generations and how to work more effectively together.
The event wrapped up with a special presentation to the graduating seniors by the Fort Worth Professional section.  Afterwards the students and professionals celebrated with cake and refreshments and had the opportunity to network.