Members of the Fort Worth section attended the SWE Region C Conference, which was held in Houston on February 7-9, 2014. It was a great opportunity to connect with members from across the region and to develop professionally.  SWE Region C is comprised of Arkansas, Louisiana, Mississippi, and Texas.
The theme for the 2014 conference was "Mobilize to Energize," providing energy and motivation to inspire conference attendees to impact the world positively through engineering.  The conference was hosted by the Rice University and the University of Houston SWE sections.
On Friday afternoon, participants had the opportunity to participate in a tour of St. Arnold's Brewery, Texas Heart Institute, or Chevron.  A Spa Night Networking Reception was held on Friday night to relax participants after travel to the conference site. Spa Night activities included 15 minute facials, back massages, and manicures as well as a "get to know the professionals" icebreaker.
Saturday's events kicked off with a networking breakfast and the State of SWE Keynote Address by the new Society of Women Engineers' Executive Director and CEO, Karen Horting.   Following the keynote breakfast, region meetings and a workshop session were held.  An oil and gas industry panel was held during lunch, which was followed by three workshop sessions.  Some of the workshop topics included: Engineering Ethics, Getting Recruited: How to be Successful, Difficult Discussions Panel, Networking and Introductions, From SOS to WOW, and Building Your Brand via LinkedIn.  A career fair (which was attended by over 20 companies) and a poster competition were open throughout the day.
Saturday's events concluded with the Annual Awards Banquet held at Chevron.  The keynote address was an inspiring talk given by Dr. Bonnie Jeanne Dunbar, former NASA astronaut.  Dr. Dunbar, who became a NASA astronaut in 1981, has been honored by SWE with two awards. In 1993, she was a recipient of the Society of Women Engineers Resnik Challenger Medal, and in 2005, Dr. Dunbar received the highest award given by SWE for her contributions in engineering: the Achievement Award.  She retired from NASA in 2005 and now leads the new University of Houston STEM Center and joined the faculty of the Cullen College of Engineering.
The weekend's festivities concluded with breakfast and yoga sessions on Sunday morning.
Congratulations to the Rice University and the University of Houston SWE sections on a great conference! The conference team was lead by Fort Worth section representative, Region C Awards Committee Co-chair, and Region C Lt. Governor Sherry Williams.
Visit the Region C website for statistics on the 2014 and earlier conferences. (http://regionc.swe.org/conference-statistics.html)
Stay tuned to the Fort Worth section website for information on the 2015 Region C conference.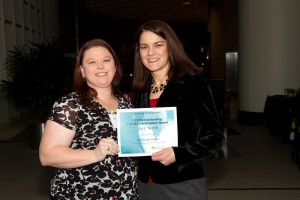 (Photos by Boyd Raburn, Raburn Photography.)