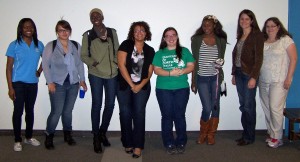 In November, several Fort Worth professional section members traveled to Denton, Texas, for an informative dinner meeting with the University of North Texas SWE members.  
Three professional members – Jody Snow, an electrical engineer; Carol Bachman, a mechanical engineer; and Melissa Tacconi, an industrial engineer – formed an informal speaker panel to answer students' questions.  Each professional SWE member shared her background and personal stories about what it's like to be a professional engineer.  Jody explained how her childhood dream of flying fighter pilots led her to a career at Lockheed Martin coordinating fighter jet projects.  Carol highlighted her experiences working in several different industries including semiconductors and commercial aerospace.  
After the meeting the students had an opportunity to network with the professionals and ask additional questions.  The Fort Worth section members shared insights about how to find internships and encouraged the students to attend the SWE Region C Conference in February.