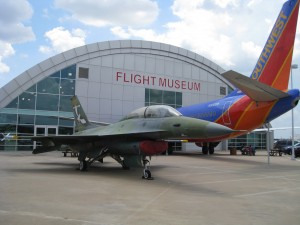 On Saturday, July 20th the Fort Worth and Dallas SWE sections teamed up to celebrate Moon Day at the Frontiers of Flight Museum at Love Field in Dallas.  The annual Moon Day event was organized by the National Space Society of North Texas to celebrate the anniversary of the first moon landing on July 20, 1969 and to encourage enthusiasm for space exploration.  Over 30 exhibitors participated in this year's event with workshops, booths and demonstrations.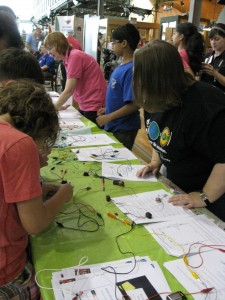 Fort Worth and Dallas SWE members taught kids how to build simple circuits with batteries, lights, buzzers, switches and variable resistors.  Kids were excited to see how to make their circuits work just like light dimmers at home.  They learned how to think about electronics and energy in space travel applications.  As they interacted with the kids and parents the SWE members also shared what it's like to work as an engineer in their chosen fields and answered questions about what they do.
The Boy Scouts and Girls Scout who participated in the activities at the SWE booth earned credit towards STEM badges.