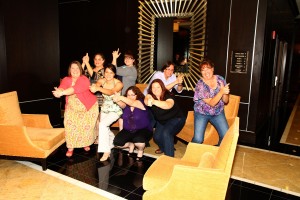 The Fort Worth SWE members enjoyed a fun evening banquet at Copeland's restaurant in Southlake.  It was an opportunity to reflect on the section accomplishments for FY13 and thank the officers for serving the section.  (We also had a little fun posing "Charlie's Angels-style" for pictures!)
As part of the evening's events, the section bid a fond farewell and best wishes to Carolyn Cooper who will be pursuing an exciting new position with Exxon in Houston next month.  Carolyn has served the section in the past by coordinating Girl Scout Workshops and serving as section vice-president.  She has also presented at the national conference.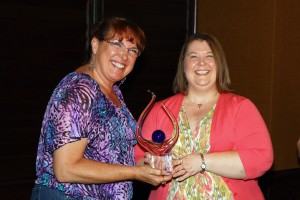 Additionally our FY13 Region Governor, Carol Bachman, presented Hope Schwalls with the Region C Distinguished Service award.  This honor is bestowed upon one Region C SWE member per year who has been a SWE member for at least 10 years and has contributed their time and talents to SWE.  Hope has been a member of SWE since joining in college and has served numerous section and region roles as well as serving on several society-level committees.  She is an aeronautical engineer with Lockheed Martin Aeronautics Company and is currently the Subject Matter Expect in CAD Development and Support in the Technical Operations organization.  Previously she was a structural design engineer on the F-35 Joint Strike Fighter program.  Hope also serves the community through programs such as Lockheed Martin Engineers in the Classroom and as a volunteer group facilitator at the WARM Place Grief Support Center.